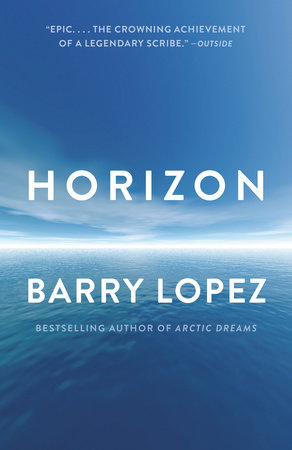 A Horizon to most is a flat line, that is observable, but never reachable. More grimmer interpretations are derived from the event horizon; a point of no return. While a horizon can also spell out something new and coming like the morning sun. But this Horizon, with pages full of beautiful imagery, is a coastal storm. And best described in the author's own words; "The coastal storm I've been waiting for finally comes, it will bring its musics, the active colors of its pummeled skies, and wind to choreograph the movements of the clouds. It will crack land and sea with its pellets of rain. It will dim the sun. If the response is awe, not analysis, that, really, is all that is needed."
After finishing the first pages I knew this book would be one that would reach the top 5 of this year's reads, and if you are of curious nature then this book will find a place in your list as well. As long as you can step into Barry Lopez' life "with an open mind and an eager heart."
To explore is to travel without a hypothesis."
Barry Lopez in Horizon goes back through his life and vaguely orders his life's lessons in 6 geographical locations. With each locations lessons in history, culture, and life in general are given freely. What I found so fascinating about this book is Mr Lopez's ability to open and honest reflection. His reflections touches upon how society has developed, cultures intermingled, but at the forefront, the injustice done to those deemed inferior in the past and man's mark on nature.
From the shores of cape foulweather, to the artics , and around the islands of the Galapagos, the regions and places visited by Lopez are those that we might be aware of its existence but almost never its history and ecology.  Places that require a certain level of humility gained from years of traveling to fully digest and appreciate what it's worth. To not be blinded by the comforts installed by the tourism industry, rather see the injustice done out of blind superiority.
I suppose many upon reading the above paragraphs are now reluctant to challenge the 592 because of its quasi-provocative attempt to highlight the topics of climate change and social injustice. To those I must say that this isn't the core message of the book, rather it is filled with the wonders of the world and h sapiens role therein. It provides you with genuine questions, not out of criticism to life in the developed world, but rather as guide to the ardently search for coherence.
So many small gems of wisdom/facts can be found in this book. And I wish I could cite them all without spoiling the book.
If by now I have not been able to convince you to put this book on your to-read list, nothing will, and that is not a problem. But before parting I will provide one of the many facts that this books is full of;
Mt. Everest; the Nepali word for it, sagarmatha, means "forehead of the sky".